About Kapitol Klowns
The Kapitol Klowns are a 100% Clowns of America, Internationa (COAI) Alley. They are the second oldest, active alley in COAI. The group was first established as a chapter of Clowns of America in 1969 under the name, The Montgomery Clowns. In August 1974, the name was officially changed to Kapitol Klowns. The Kapitol Klowns celebrated their 40th anniversary in 2009. The Kapitol Klowns serve the Washington, DC and Maryland area.
The Kapitol Klowns are a non-profit organization. The members meet once a month to promote the art of clowning through education and participation in community events. The group tries to include an educational program at the monthly meetings.
The alley has donated money to many charities, but our current favorite is the Children's Inn at the National Institute of Health (NIH) which is a residence facility for seriously ill children and their families.
Each year, the Kapitol Klowns hosts a two day workshop referred to as the Mid-Eastern COAI Clown Convention. The Kapitol Klowns also hosted the COAI Convention in 1986.
Membership Information
In order to become a member of Kapitol Klowns, you must have a current COAI number and be critiqued in costume at a regular Kapitol Klowns membership meeting or event. Our by-laws also state that all members must in some way be actively involved with our annual workshop. Dues are $25.00 per year for an individual membership and $10.00 per year for each additional family member.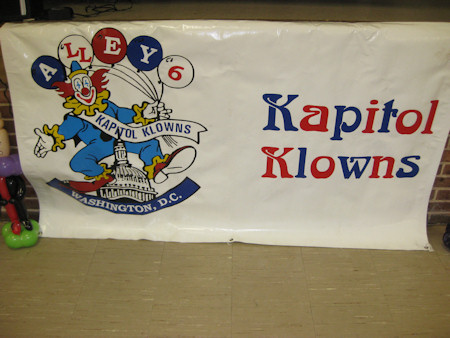 Starting in July 2014, the Kapitol Klowns meet the 4th Monday of the month at 7:30pm at Riderwood Village at Montgomery Station off Interstate 95/495. The group will meet in the Craft Room in the Town Center building.